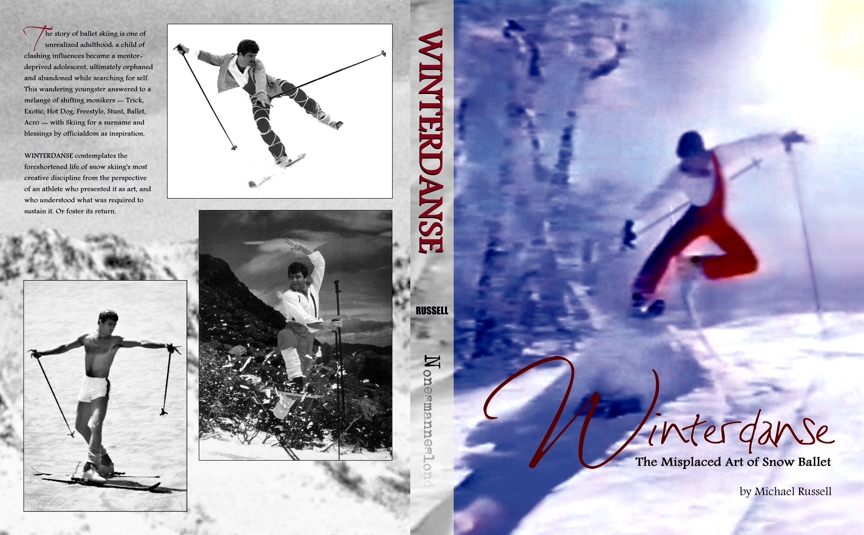 WINTERDANSE: THE MISPLACED ART OF SNOW BALLET
2022, nonfiction, winter sports, art performance
8.5 x 11, 336 pages, illustrated, hardcover/trade paperback
Purchase at AMAZON or BARNES & NOBLE
THE STORY OF BALLET SKIING is one of unrealized adulthood: a child of clashing influences became a mentor-deprived adolescent, ultimately orphaned and abandoned while searching for self. This wandering youngster answered to a mélange of shifting monikers – Trick, Exotic, Hotdog, Freestyle, Stunt, Ballet, Acro – with Skiing for a surname and blessings by officialdom as inspiration. Winterdanse contemplates the foreshortened life of skiing's most creative discipline from the perspective of an athlete who presented it as art, and who understood what was required to sustain it. Or foster its return.
Richly illustrated with hundreds of photographs, letters, journal entries, competition documents, performance programs, and news-article excerpts spanning 50 years, Winterdanse is not just about skiing, but about innovation, discovery, and the influence of contemporary culture on sport and art. It is about finding oneself on a road, a good road but not the right road, only to discern that the right road does not yet exist. It is about building a new road with little more than the conviction that it can be built. It is about thinking independently and owning the consequences.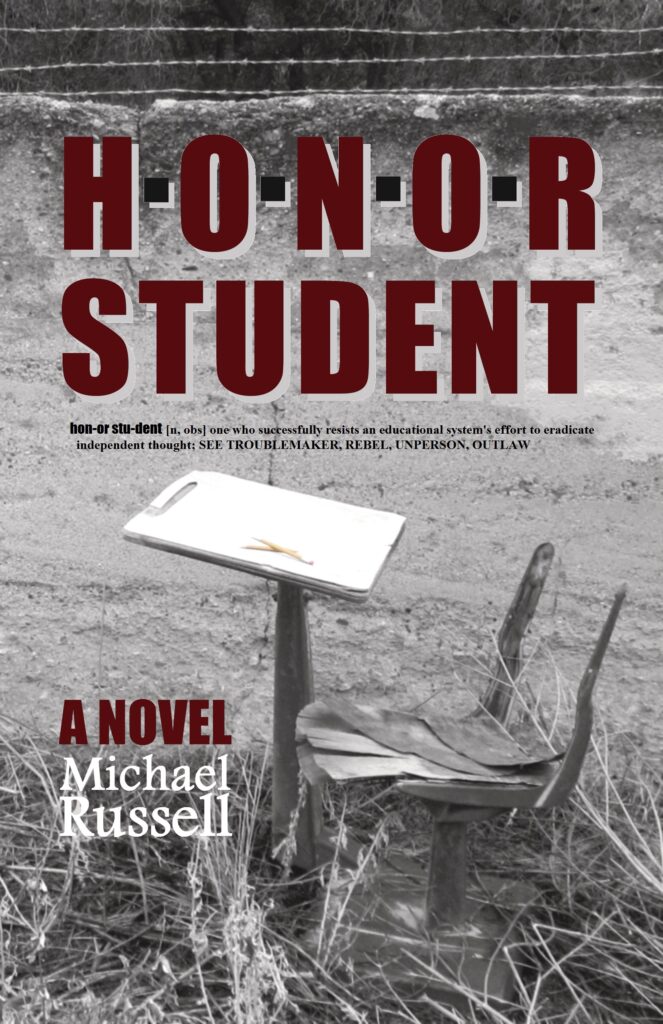 Honor Student
Revised/Second Edition
(fiction, young adult, coming of age)
(hardcover, trade paperback, eBook)
(5.5 x 8.5, 250 pages, © 2019)
hon-or stu-dent [n, obs] one who successfully resists an educational system's effort to eradicate independent thought; SEE TROUBLEMAKER, REBEL, UNPERSON, OUTLAW
AT A TYPICAL PUBLIC HIGH SCHOOL in an average American city, a student is asking questions his teachers cannot answer. To his guidance counselor, his behavior is inexplicable and unnerving. To his father, the school principal, he is an embarrassment. To the future of government-controlled education, he is a threat. Kevin Saunders should be a straight-A student, yet he is failing his easiest classes as if by design.
Honor Student, first published in 1989, is the story of a young man's fight for ownership of his mind, and of an ex-teacher's struggle against self-betrayal. Its theme, the role of reason in education, is addressed to anyone who has ever attended public school, but particularly to those whose minds may yet survive it.

Once Upon a Time on a Bicycle
(nonfiction/illustrated, motivational, bicycling)
(hardcover, trade paperback, eBook)
(6 x 9, 316 pages, © 2018)
IT WAS NOT THE FIRST TIME he had pedaled toward a horizon thousands of miles away, but never before had there been no horizon. Under the cloud of an abandoned promise, Michael Renati relinquished every possession unable to fit in bicycle panniers with only one goal in mind: to become a stranger navigating strange lands under his own power. Headwinds and climbs, tailwinds and descents, exploration, introspection, distance, vision, resolve, saying goodbye and starting over poignantly blend with exotic-locale photography to tell the true story of a man on an all-or-nothing journey to reintegrate body and soul.
How far must one ride to reconcile a life that was not what it seemed?
For devotees and aspirants, Once Upon a Time on a Bicycle includes an illustrated "Notes from the Road" appendix detailing the author's expedition inventory, bicycle-build specifications, and equipment evaluations.
From novelist Richard S. Wheeler, six-time Spur Award Winner and recipient of the Owen Wister Award for Lifetime Achievement
This is a compelling story of a long bicycle ride, from the American Southwest to Central America. It is an interweaving of two journeys: one geographic and the other, interior and ethical. As we explore these pages we see a great adventure, planned and executed with a realistic grasp of the dangers – and beauties – awaiting the traveler. The gifted author's story is absorbing, perceptive, and evocative. From the seat of a touring bicycle we see country and people close-up. We sense trouble as it arrives, magic when smiles greet the rider, and comfort in villages, cities, and landscapes. This is an elegant book brimming with photographs, wisely kept to black and white, offering a visual dessert.
Once Upon a Time on a Bicycle is too big to compress into genre and far more than an adventure. It is a love story.
Copyright © 2022 ALL RIGHTS RESERVED